(adapted from Rev. William Cwirla's sermon from three years ago. Credit for the concluding sentence goes to Rev. Thomas Fast.)
I had thought I would say not much about the significance of today – that maybe you would be tired of hearing about 9/11 by now, hearing of it from TV, radio, the internet, sports events, friends and family.

However, few of those will say anything about it from God's perspective.

And if the Church does not speak God's point of view, who will?

Now, if you are tired of hearing stories of 9/11, do not worry – I will not be telling those.

That is the job of the media, and they are doing it well.

This sermon has to do with more than just today – it is about how we see all evil that happens in life the way that God would have us see them, through the life of Joseph.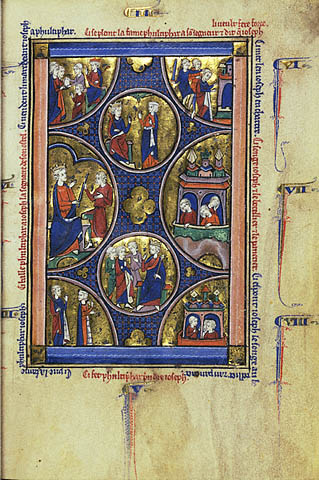 His story takes up the last quarter of the book of Genesis.

Joseph's brothers had wanted to kill him when he was 17, but brother Reuben thought better of it.

Instead they threw him into a dry well, sold him to the first bunch of slave traders that came along, and convinced their dad that ferocious animals killed him.

Meanwhile in Egypt, the Pharoah's official named Potiphar bought Joseph to be a servant.

After Potiphar's wife falsely accused him of violating her, he ends up in an Egyptian prison.

But Genesis notes that the Lord was with Joseph even during this dark time.

He was put in charge of all the prisoners.

And, it took a while, but thanks to God's gift of interpreting Pharoah's dreams of upcoming drought years, Joseph was both released from prison and put in charge of the whole grain supply of Egypt.

It was no coincidence that when the famine hit back in Israel, Joseph was in the right place at the right time to help his father, brothers, and their families – just as God intended.

Joseph has no hard feelings as he is reunited with his brothers and restored to his father Jacob.
In today's text, dad has just died, and the brothers are terrified that Joseph has been nice only because dad was around.

They beg forgiveness for all their evil.

They hope that by invoking dad's name, they can stop Joseph from taking revenge.

They even go so far as to try to bargain with him.

"We are your servants."
But Joseph refused to accept their deal.

"Am I in the place of God?" he asks.

How could he fail to forgive them when God had forgiven Joseph so much?

Peter, the disciples and the rest of us might need Jesus to tell His parable so that our minds get shaken up and we stop putting limits on our forgiveness, but Joseph does not need that.

The King of the Universe has forgiven us, His servants, an absurd amount of debt – think almost 1000 years of wages, more than we could repay Him in multiple lifetimes.

Jesus warns us not to be like such a wicked servant who was released from such a burden, only to go and demand the puny amounts owed by fellow servants.
The key to understanding Joseph in the OT is the key to understanding the Gospel parable.

Who forgives first?

The Lord.

Who is forgiven first?

The servant owing bazillions of dollars.

We will not get life together with fellow sinners right until we get this right.

God forgives us first – and we owe Him big time!

What others do to us is small change compared to what we do to God.

This is the problem with our failure to forgive, the reason Jesus tells His parable to shake us up.

We deny how much God has forgiven us and forget He sent His Son as a descendant of Joseph's brother Judah to forgive the sins of the world.

And then we turn around and stop His forgiveness short with our desires to get even.

Worse, we are taking the place of God, condemning those who do us wrong to be cut off from forgiveness.
"Am I in the place of God?" Joseph asks.

And in a mysteriously wonderful sense, Joseph was.

And I am.

And you are.

"In the stead and by the command of" – or "In the place and by the command of my Lord Jesus Christ," under His authority, I forgive your sins, a reality as true on earth as it is in Heaven.

Likewise, you also stand in the place of Christ to give this same forgiveness of the Lord to your spouse and family, to your friends – and yes, to your enemies too.
Now comes the line in Scripture that should be burned into our brains, the verse that has everything to do with 9/11, and any other evil in every day.

"As for you, you meant evil against me, but God meant it for good, to bring it about that many people should be kept alive, as they are today" (Genesis 50:20).

You meant it for evil; God used it for good.
Do we really dare believe that, dear brothers and sisters in Christ?

Can we really trust that when the world throws evil at us, the very evil that our friends and family do to us, that God will take it into His own hands and make it to be good?
Look to the cross of Jesus, dear friends.

Men meant it for evil.

They wanted to silence and destroy the Son of God, get rid of Him for good.

They schemed and lied and perverted justice to get Him crucified.

It was evil piled on evil.

And God used it for the good of your salvation, my salvation, the salvation of Joseph and his brothers.
At times of great suffering, humans want to know why.

Joseph in prison could have wanted to know why God was letting all that happen.

Now in hindsight we can answer that – so that he could keep his whole family from starving.

But with 9/11 God has not told us why He allowed that.

However, we can focus on the "what" question.

What does God promise?

He promises that whatever evil happens to His people in the world, He will make to be good.

And that is a matter for faith, because He does not promise the good will always be as clearly seen as rescuing famine victims.
Helmut Thielicke was a Lutheran pastor in WWII Germany.

His congregation met amidst the sound of air raid sirens.

They worshipped in a parish hall after their church was bombed to rubble.

He writes, "We must therefore not simple say: 'God' sends death, 'God' sends cancer, 'God' sends multiple sclerosis.

The existence of these powers is radically contrary to God's plan of salvation.

He allows it, and He undoubtedly is thinking His own higher thoughts when He does so."

And sometimes, even with sinful and small minds, we can figure out what God is up to when He does. "But then there is this other fact which is just as true – the totally new fact, which no man could ever discover by himself.

Everything God permits the dark powers to do must first pass in review before Him.

Everything is examined and censored by His fatherly eye to see whether it will really work 'for good for those who love Him'" – as He promises in Romans 8.

"Everything must first pass by Him, every bomb that may strike me, every shell-splinter that may take my dearest away from me, every intrigue or [deception] that men may inflict upon me. "And since it must first pass by Him before it can strike me, there happens what always happens when a thing or a person is looked upon by the eye of God: a great transformation takes place: Sufferings become trials which are meant to be endured in order that I may be purged and refined like the precious metal of gold. The great time of terror, in which the furies of man's brutality, blindness, and [pride] are unleashed, become times of visitation.

Death, the 'last enemy' becomes the 'desire to depart and be with Christ' (Phil 1:23)."

The valley of the shadow of death becomes the place where I learn to rest under the Good Shepherd.

The anxieties that torment me becomes the raw material God uses to build my trust and my faith...

"It is as if God intercepts these originally evil and disastrous missiles of fate, catches them in His fatherly arms, and sends them in the direction He wants them to go for the benefit of His children" (Our Heavenly Father, p. 27-28).
Joseph says his brothers meant it for evil.

God has used it for good.

That is faith talking.

God intercepts the missiles – and airplanes, and all hurtful words and deeds – all that are intended to destroy us.

And He redirects it all for our good.

It all goes through the crucified body of Jesus and His shed blood for you.

God has made peace with the world, and with you, His baptized child, on that day 2000 years ago that was otherwise far more horrific than what happened ten years ago.
How can we not forgive?

How can we not let go and leave it be?

How can we not die to all evil done to us, knowing that God has first forgiven our evil, and then turned the sin done against us to be a blessing in His way in the end?

Life in salvation by the forgiveness of sins – not just 7 times, but 70 X 7 beyond what you can keep track of.

The death of 9/11 is overcome by the life of Jesus in 70 X 7.

Amen.